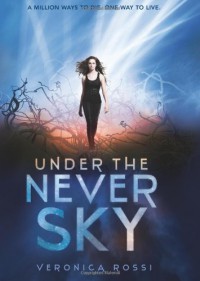 Too little of too many things meshed into one story, 2.5 stars
In Veronica Rossi's debut novel, Under the Never Sky, Aria has always lived on the inside. Safely tucked within her enclosed city, she has been taught to fear the disease and destruction that supposedly awaits on the outside. When Aria is forced out into The Death Shop – the world beyond the glass – she expects to die. She soon meets up with a rough outsider named Perry, however, and together they discover they may be the key to each other's salvation as long as they can work together to survive the dangers that confront them on their journey.
Under the Never Sky takes a little something from many different genres – sci-fi, fantasy, post-apocalyptic, adventure, historical, and romance – and smooshes it all into one book. Because of this, the novel could appeal to many different readers, but for me, it felt like too little of too many things meshed into one story. Explanations about how the world worked, both inside and outside the dome, seemed shaky at best, and the same lack of clarify pervaded explanations about different characters' special abilities. Aria as a main character also wasn't very compelling. It took me a very long time, more than halfway through the book, to become at all interested in what was happening to her or any of the other characters. While Perry was more appealing in his complexity, the relationship between he and Aria switched too quickly from a detached partnership to a devoted romance to be believable. Their relationship and how it was described was also hindered by some truly odd and uncomfortable plot points about Perry's sense of smell and what it could tell him about Aria.
Even with these flaws, the novel did have its good points. Once I got past the halfway point, the pace picked up substantially, and I found myself turning pages more quickly to learn what happened next. Perry was a sympathetic character with real flaws, and one of his close friends, once introduced, added a lot of levity to the story. Though the world building wasn't always clear, the mystery involving Aria's mother and her research was intriguing, and some of the described technologies and special senses that people had were inventive. The ending scene was also done well; though an obvious lead-in to the next book, it didn't leave things feeling too unfinished.
In all, Under the Never Sky was a basic journey/adventure story that simply didn't have the character development or world building that I needed to enjoy it. In the books to come in this trilogy (Through the Ever Night and Into the Still Blue), I hope Rossi paces her stories more consistently and expands on her world building to let readers really understand her world and the characters she's created.
Note: This review refers to an advance review copy.